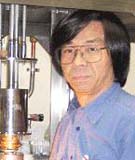 Kazuya SAITO
Inorganic Physical Chemistry
Professor  D.Sc. 1986, Osaka University

 TEL +81-29-853-4239 FAX +81-29-853-6503
Physical chemistry on structure and properties of molecular aggregates.
◇ Cooperativity of Dynamics of 18-Crown-6 Molecule Forming One-Dimensional Chain in Cs2(18-crown-6)3[Ni(dmit)2]2, S. Ikeuchi, Y. Miyazaki, S. Takeda, T. Akutagawa, S. Nishihara, T. Nakamura and K. Saito, J. Chem. Phys., 123 (4), 044514 (2005).
◇ Calorimetric study of a halogen-bridged MMX chain complex having alkyl chains, Pt2(n-PrCS2)4I (n-Pr = propyl group), S. Ikeuchi, K. Saito, Y. Nakazawa, M. Mitsumi, K. Toriumi and M. Sorai, J. Phys. Chem. B, 108, 387-392 (2004).
◇ Degree of disorder in cubic mesophases in thermotropics: Thermodynamic study of a liquid crystal showing two cubic mesophases, K. Saito, T. Shinhara, T. Nakamoto, S. Kutsumizu, S. Yano and M. Sorai, Phys. Rev. E, 65, 031719 (2002).