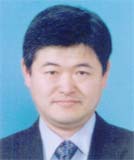 西村 賢宣
光物理化学 : 准教授 : 理学博士. 1993, 筑波大学

 TEL 029-853-4521  FAX 029-853-6503
光によって生じた励起状態からの緩和過程に関する研究。特にドナー・アクセプター系の電子移動およびエネルギー移動機構を、時間分解蛍光法によって明らかにする。
◇ Y. Nishimura, M. Kamada, M. Ikegami, R. Nagahata and T. Arai, The relaxation dynamics of the excited state of stilbene dendrimers substituted with phenylacetylene groups, J. Photochem. Photobiol. A: Chem., 178, 150-155 (2006).
◇ T. Kawai, M. Ikegami, K. Kawai, T. Majima,Y. Nishimura, and T. Arai, Recognition of substituted cytosine derivatives by the base pairing with guanine connected to pyrene, Chem. Phys. Lett., 407, 58-62 (2005).
◇ S. Sato, Y. Nishimura, I. Yamazaki, and Y. Sakata, Coherent control of oscillatory excitation transfer in dithia 1,5[3,3]-anthracenophane by a phase-locked femtosecond pulse pair,J. Phys. Chem. A , 107, 10019-10025 (2003).