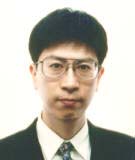 佐藤 智生
界面光物理化学、不均一系化学 : 准教授 : 工学博士. 1996, 京都大学

 TEL 029-853-4497 or 4464 FAX 029-853-6503

表面、界面、ナノ粒子、ナノ薄膜が関与する界面光物理化学・不均一系化学。メゾスコピック組織体の光機能・光物理化学的特性の解明。

◇Enhancement of Light Harvesting and Photocurrent Generation by ITO Electrodes Modified with meso,meso-Linked Porphyrin Oligomers, T. Hasobe, H. Imahori, H. Yamada, T. Sato, K. Ohkubo, and S. Fukuzumi, Nano Lett., 3, 409 - 412 (2003).
◇Spectroscopic Properties of Noble Metal Nano-Particles Covered with J-Aggregates of Cyanine Dye, T. Sato, F. Tsugawa, T. Tomita, and M. Kawasaki, Chem. Lett., 402-403 (2001).
◇Sensitized Photoreduction of Silver Ions in the Presence of Acetophenone, T. Sato, H. Onaka, and Y. Yonezawa, J. Photochem. Photobiol. A: Chemistry, 127, 83-87 (1999).